VoIP Telephones & Offshore Fiber Networks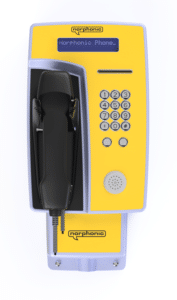 As with all major modern day industrial networks, there is a shift happening in Maritime Industry towards implementing modern fiber / Ethernet networks. In previous years, the industry typically viewed cruise or ship Ethernet networks as "IT infrastructure" and saw this primarily as a cost center. However, today rugged and heavy duty VoIP telephones represent a highly cost effective way for rig & ship owners to future-proof their fiber network for expansion using open standards whilst improving their offshore communications.
Ship owners with multiple ships in different geographic locations need the ability to communicate between offices in a cost effective way, and traditionally calls over the PSTN and GSM networks could easily ramp up heavy monthly bills.
Reduce monthly bills by routing calls over the internet
A benefit with the Norphonic Offshore VoIP Telephone is that it is based on open SIP standards. This means that you can use the Norphonic SIP function and transfer the calls to any IP PBX free of charge over the internet. Using open standards also means that the Norphonic solution is extremely cost effective when it comes to future maintenance and repairs. -You can easily swap out the Norphonic SIP phone or PBX at a later date, without having to worry about being tied to certain phone or switch products via proprietary protocols. Session Initiation Protocol (SIP) is the most widely used protocol for controlling multimedia communication sessions such as voice and video calls over Internet Protocol (IP). For example, if you need to change from an Alcatel solution to a Cisco PBX solution or telephones at a later date, you can do this without having to worry if you need to change out any other infrastructure.
In addition, by Norphonic maritime VoIP telephones, there are cost savings to be gained from remote system monitoring, fault checks and automatic reporting.
Ship to Shore Communications
Norphonic units communicate over an industrial Ethernet. The flexibility of Ethernet network topology allows a ship network to be configured to provide the level of fault tolerance required of the application. Below is an example on how Norphonic maritime VoIP telephones can be used to make ship-to-shore calls on board oil & gas rigs, Floating Production Storage Offloading (FPSO) ships, cargo ships, tankers, bulk carriers, container ships, passenger ships etc.
Example: ship to shore VoIP network via satellite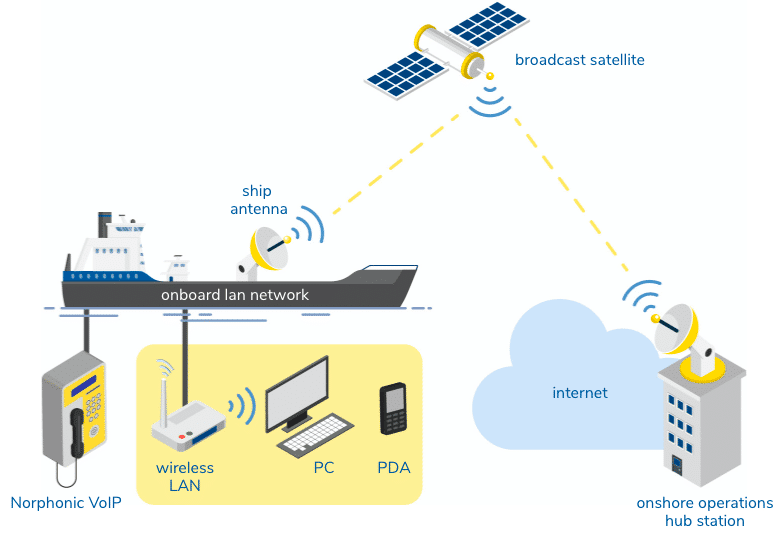 Fig.1. The image shows how the Norphonic Marine VoIP telephone can be connected to the Antenna via a Ku Band Satellite, providing Internet access 24/7 through an onshore operations Hub station.
Offshore LAN / VoIP Network
On board the ship, Norphonic units can operate effectively on a range of network topologies via single mode fiber cables or wireless connections. The simplest option is a star network configuration with all modules radiating out from a single switch. At the other extreme is a fully managed redundant ring network, where any single point of failure can be managed through an alternate pathway. The Norphonic IP Maritime Seaproof Telephone comes with an option to include two built-in single mode fiber optic ports (LC Connectors) which enables redundant networking via Rapid Spanning Tree Protocol (RSTP). This means that you do not need an external fiber switch to enable redundancy, which is a highly cost effective inclusion. The phone could also be used in a network with external switches, and the phone would then be connected to the switch via Ethernet (RJ45) port on the Norphonic maritime VoIP telephone unit.
Example – Offshore LAN / VoIP Network
The below figure shows how the telephones could be installed in a ring-formation to provide a high degree of redundancy in case of failure of either the fiber link or the phone itself.
Example: redundant VoIP network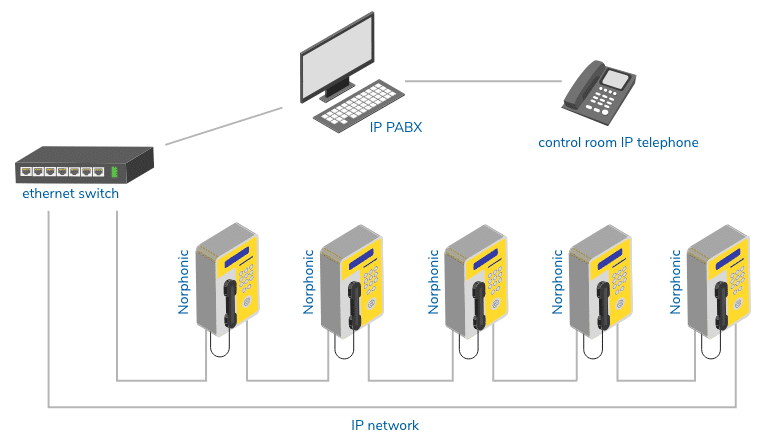 ( Each Norphonic telephone have two integrated Fiber Optic Ports – Single Mode, 100 Mbit )
Fig 2. A redundant VoIP Network using Norphonic's integrated single mode fiber ports.
Explanation of Network Redundancy (fig. 2.)
Since the Norphonic sea-proof telephones can be equipped with 2 fiber ports as a product option, a break in the fiber link in one direction will not affect the phone, since the system will reconfigure to the
alternate path. And if one of the telephone is faulty, it will not affect the other phones from functioning.
In many modern ship / offshore networks, it is required that the offshore network shall be made to be redundant, immune against noise and built on open standard protocols. This is achieved by use of Ethernet over fiber, usually coupled in a ring formation with a protocol which controls the ring. Of open protocols, typical alternatives include Spanning Tree Protocol (STP), Rapid Spanning Tree Protocol (RSTP) and Multiple Spanning Tree Protocol (MSTP). Norphonic onboard VoIP telephones support RSTP and STP. Today, STP is rarely used, so in practical terms RSTP is the main protocol which is used. Seeing that almost all administration switches today support RSTP, this means that you can construct network rings where you can mix and match different Ethernet switches from different manufacturers, and you can also be free to select whatever switch you want when you are upgrading or maintaining your network. Norphonic does not support proprietary solutions, as we cannot see that a customer will have any benefit by being bound to only one product. This means that you secure a high degree of future proofing when investing in a Norphonic Maritime VoIP Telephone solution.
The Norphonic VoIP Telephones are otherwise built on Open Standard SIP (Session Initiation Protocol) which is the most widely used VoIP Signalling protocol and RTP (Real Time Protocol) which is the most widely used Audio protocol on VoIP networks. This further establish the Norphonic unit as the telephone of choice when it comes to future-proofing your overall maritime communications solution.
Offshore Wireless Communications
When designing a wireless network offshore, it is important to have a basic understanding of radio receivers/transmitters and the modulation and coding used to convey information in existing and emerging communications systems. This can include the latest generation of receivers, transmitters and modulation systems used in mobile radio, microwave, satellite WiFi, WiMAX, HSPA and LTE and other OFDMA/ FDMA/TDMA systems. It is also important to plan well when implementing offshore wireless networks, as some equipment on board the ship can pick up and reflect signals.
Although the Norphonic VoIP offshore telephones are typically interconnected to the Ethernet network using fiber cables, Norphonic IP telephones can also be connected to an external WiFi transceiver / antenna in order to transmit and receive signals, thereby providing a Wireless solution for Offshore / Marine areas. See the example schematic below.
Example: Wireless Emergency / Industrial Telephone Solution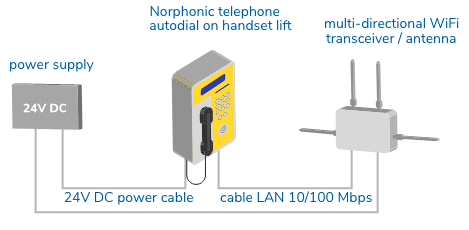 Fig 3: Example of a Norphonic offshore VoIP telephone connected to a multi-directional transceiver / antenna to facilitate Wireless / WiFi communication in offshore / maritime areas, on board ships etc.
The flexibility of the Norphonic VoIP Marine Telephones therefore means that it can either be used on a fixed fiber cable layout or in a wireless VoIP environment. There are no particular barriers to installing Wireless / WiFi solutions, but the network designer should be aware of potential voice quality pit-falls and plan for these.
Noise Reduction and Voice Quality
Passengers and crew have a certain voice quality expectation when conducting a telephone conversation. This expectation is no different when using offshore VoIP telephones compared to using their fixed line telephone at home / onshore.
Some key things to be aware of in terms of voice quality when designing your ship network layout:
• Latency – delay from data is transmitted until it is received. Noticeable in conversations if latency goes above 100ms.
• Jitter – variances in latency between packets. High jitter means large variance in packet latency and degrades speech quality
• Out of order data-packets – degrades speech quality, is often caused by jitter
The offshore network designer should be careful to specify a VoIP Telephone which gives a good sound quality, by ensuring that the telephone incorporates the following:
Quality of Service (QoS) is a feature found in all Norphonic VoIP marine telephones and refers to the ability to provide different priority of voice and data flows, or to guarantee a certain level of performance to a data flow, ensuring impeccable delivery of voice communications in an IP network.
Type of Service (ToS) is a feature found in all Norphonic VoIP marine telephones, delivering packet precedence (i.e., priority) in network traffic, thereby ensuring low delay, high throughput and high reliability.
Voice Quality – Mean Opinion Score (MOS)
Mean Opinion Score (MOS) is a metric calculation which is used to measure call / voice quality. The MOS score of a call is measured numerically between 1 (for unusable) and 5 (for excellent). VOIP calls that are working properly fall between 3.5 and 4.2 MOS. A score of 4.0 is defined as toll quality. MOS score is an indication of what users would think about the call. It was developed using surveys of users of different technologies, but today it is calculated through the use of engineering formulas.
When designing industrial or offshore IP networks to carry voice, you should not allow the MOS to drop below 3.0 at any time. For most emergency network applications, a MOS above 3.7 is recommended at all times. The Norphonic Heavy Duty VoIP Telephone can boost a high MOS listening quality score of 4.3.
Self-Monitoring and Fault Check Functions
To further reduce maintenance costs and improve overall system up-time, Norphonic offers automatic health-checks and fault sensing on all offshore models. This valuable feature gives the ship operator an immediate notification if there is a connectivity or function fault with the Norphonic unit, thereby ensuring timely repair and maintenance of your maritime communications system. This beneficial function offer surveillance capabilities of:
Hook sensing (ie: hook off/on)
Audio Self Test (microphone / headset check)
Firmware version and firmware update status
The audio self-test involves testing the function of the SIP software, audio circuits and the handset by playing and recognizing a set of DTMF tones in the handset at pre-configured time intervals. The alarms are reported over the fiber optic or cat5 Ethernet (where applicable). The phone can provide Modbus UDP, Modbus TCP or SNMP traps for the self test and on-hook / off-hook event. Fiber link failure does not generate a trap but it can be polled. The advantage of using SNMP or Modbus protocols is that these are standardised tools for monitoring other network equipment, including switches, routers, PBX systems, VoIP gateways and pretty much anything you
want to monitor inside an offshore environment.
SCADA or Business Process Management Integration
The inclusion of Modbus TCP, UDP and SNMP open standard protocols in all Norphonic VoIP models mean that it easy to integrate Norphonic offshore telephones with your existing ship SCADA system or overall data reporting system.
Norphonic Heavy Duty VoIP Telephones can therefore easily integrate with existing IT infrastructure such as business process management, SCADA systems or land based control equipment. This provides unique flexibility when integrating process-reported alarms.
What to look for in a VoIP Offshore Telephone?
ATEX, Ex telephone, Explosion proof telephone, VoIP Ex Telephone, Intrinsically Safe, IS, FM, UL approved, SAEX, MSHA, Hazardous voip, SIRAThere are many issues that needs to be addressed prior to commissioning an IP sea-proof telephone, such as evaluating the installation environment, functionality and temperature ranges. Below are some key pointers to look at when choosing your VoIP Offshore Telephone
Is the system future proof? Can the system be upgraded or changed in the future without having to change all the telephones and the entire network? All Norphonic Heavy Duty telephones can be changed with other systems without loss or differentiation to the level of service.
Is the telephone dust and water proof? Offshore and maritime areas are some of the most challenging areas in the world, exposed to extreme levels of dust and water. The ingress IP rating to IP65 is therefore recommended in all offshore applications. See definition of Ingress Protection in the below Glossary for further information.
Is the telephone seawater resistant? All Norphonic VoIP telephones are high performance products which are coated with a protective solution paint, making it resistant to corrosion from the seawater.
Is the telephone condensation proof? –This can otherwise lead to severe problems in operation as water can easily form inside the unit, affecting performance. All Norphonic telephones are immune to condensation effects.
Does the hookswitch contain moving parts? All Norphonic Heavy Duty VoIP telephones do not contain moving parts, and can therefore operate in extreme areas where dust or exposure to grime is a challenge for traditional telephone systems.
Can the system work in extreme temperatures? Offshore environments can be notoriously hot and/or cold, so a wide operating temperature functionality is recommended for offshore telephones, from –20 up to +55 Celcius.
Does the telephone incorporate VSQ – Voice Sound Quality? This is a standard feature in all Norphonic telephone systems, ensuring loud and clear sound, even in noisy ambiance areas.
Does the VoIP telephone incorporate a QoS – Quality of Service functionality and ToS – Type of Service? These features, found in all Norphonic telephones, guarantees a certain level of performance in a data flow, ensuring impeccable delivery of voice communications in an IP Network.
Is the telephone colored in such a way that it is easily identified by users? The Norphonic Heavy Duty VoIP comes in a bright yellow color as standard. Colors can also be customised depending on the user needs and order volumes.
Is the system easy to install and to maintain? Norphonic Heavy Duty VoIP telephones are easy to install and have in-built status monitoring and fault check functions. This means that the status of the telephones can be monitored from a remote location, saving you considerable maintenance costs.
Can the onboard communications technology easily be integrated with the existing land-based corporate IT infrastructure? Norphonic Heavy Duty VoIP systems are built on Open Standard SIP technology & Open Standard Modbus TCP / UDP technology, and can therefore be integrated with your existing IT infrastructure, SCADA systems or any IP based PBX and network system (including Alcatel, Cisco, Asterisk, Switchvox, Broadsoft etc).
Is the telephone CE approved? CE marking means that the product is certified to meet EU consumer safety, health or environmental requirements. End users should be aware that some telephones use the intentionally confusing term "CE" for "China Export", and the only way consumers can check this is to closely examine the CE mark/ logo as the two logos are very similar.
Do you need an Ex approved telephone or not? It is important to realise that not all oil & gas locations actually need EX or explosion proof telephones. This depend on whether or not your area is unsafe / ie. exposed to explosive gases, vapor or other hazardous elements. It is worthwhile to consider this before you purchase an explosion proof system as EX telephones / Intrinsically safe telephones will be more expensive than "regular" industrial VoIP telephones.
In the cases where explosion-proof telephones are needed, is the EX telephone approved to the correct standards? In Europe, the ATEX directive consists of two EU (European Union) directives describing what equipment and work environment is allowed in an environment with an explosive atmosphere. ATEX derives its name from the French title of the 94/9/EC directive: "Appareils destinés à être utilisés en ATmosphères EXplosibles". Oil & Gas & related ship owners must follow the directives to protect employees from explosion risk in areas with an explosive atmosphere and also classify areas where hazardous explosive atmospheres may occur into zones. The classification given to a particular zone, and its size and location, depends on the likelihood of an explosive atmosphere occurring and its persistence if it does. In other geographies like USA, MSHA (Mine Safety Association) has spesifications on explosion proof phones, and different approval bodies can issue different approval certificates. For example Underwriters Laboratories (UL) and Factory Mutual (FM) issue approvals in the USA, and Canadian Standards Association (CSA) issue approvals for Canada. In other words, if you need EX products, it is important that you check what approvals is needed in your region, and follow local regulations on this important safety aspect.
Contact Info – Maritime Communications Technology
The maritime sector is a diverse one which includes commercial shipping, fishing industries, leisure shipping and cruise, naval, as well as multinational oil and gas industries. The degree to which the shipping and maritime industry can improve communications and reduce costs to depends on how well they exploit the full communication capabilities of industrial VoIP Ethernet products including Ex and rugged VoIP Telephones.
To meet growing demands for reliable and cost-effective communications, Norphonic is offering its Heavy Duty VoIP Telephones for offshore and maritime areas. Norphonic is a highly affordable maritime VoIP telephone which is able to operate in harsh offshore environments.
You can read more about Norphonic and access case studies, white papers and technical product on this webpage.
We also encourage you to get in touch to find out more about Norphonic VoIP Maritime Telephones. You may also contact us at: Norphonic AS, Fjellsdalen 3, 5155 Bønes, Bergen, Norway, Tel: +47 5562 7520, Email: info@norphonic.com or via the contact section on www.norphonic.com
Important Copyright and Disclaimer Notice
All content here is created by Norphonic. This content is owned by Norphonic and you agree not to copy, communicate to the public, adapt, distribute, transfer, sell, modify or publish any contents of this webpage without express pror written consent from the owner. Norphonic and all other trademarks used in this web-page are trademarks of their respective owners. This publication is a guide for reference only. Reference to local codes and standards for compliance of system design should always be sought. No part of this document may be reproduced or transmitted in any form or by any means, electronic or mechanical, including photocopying and recording, for any purpose without the express written permission of Norphonic. Please contact Norphonic for further information. The manufacturer reserves the right to change designs or specifications without obligation and without further notice.