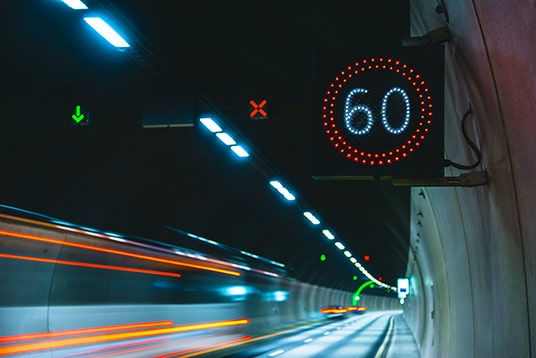 Emergency Roadside Telephone (ERT)
Highway agencies and Public Road Administrators are measured on their road safety records, which is typically based on the number of incidents, accidents, injuries and fatalities. The challenge is to find a solution that can reduce the number of injuries and accidents inside underground road tunnels, on bridges or along public highways, whilst minimising the expenditure on public budgets.
Road tunnels poses an increased disaster risk should an accident occur, due to the enclosed nature (find a better word). Fire hazards and the danger of toxic substances becoming trapped. Limited reception is a risk thus VoIP telephones are key in this situation.
The European Parliament Directive of 2004/54/EC stipulates that all road tunnels above 500 meters in length should have Emergency Roadside Telephones installed at least every 150 meters.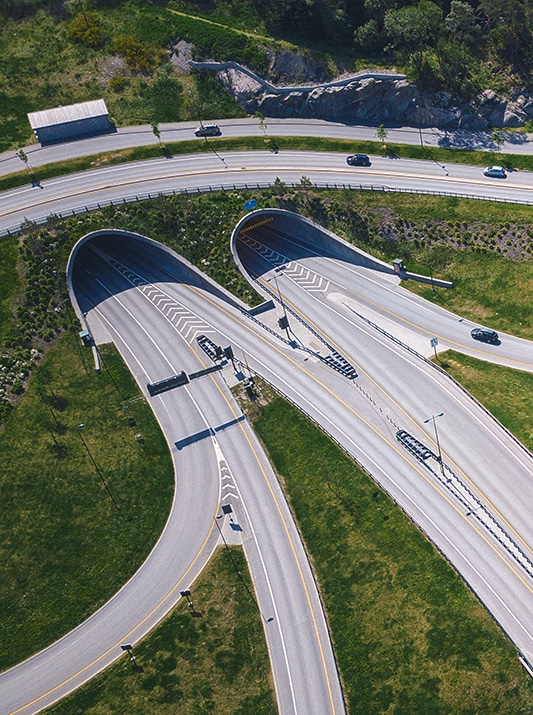 Our features
Norphonic has a long history of delivering Emergency Roadside Telephone – ERT systems in many countries, ensuring essential communications when it is most needed. The features included in the telephones reflects this.  The telephones support power over ethernet as it has become a commonplace in ERT systems. Some benefits of PoE are reduced installation costs, simplified installation, scalability and flexibility regarding devices which are PoE enabled. Nevertheless, should PoE be undesirable the telephones have the capabilities of using traditional 24VDC from an PSU.
Integration was one of the main focuses when developing the telephones. They are running Open Standard SIP technology making them compatible with all major PBX and network systems like Brekeke, Cisco and Asterisk. One of the main design philosophies of Open Standard Sip technologies is a unified and consistent approach for interfacing with other communication system making seamless integration possible.
With seamless integration in mind the customer should not be worried about deploying the telephones into a large complex network, as there are features in place making management easier. SNMP and Modbus are natively supported making management and maintenance a breeze. To further reduce maintenance costs and improve overall uptime, Norphonic offers automatic health-checks and fault sensing on all VoIP models. This valuable feature gives the traffic central staff an immediate notification if there is a connectivity or function fault, thereby ensuring timely repair and maintenance of your road system. This function offers surveillance capabilities of:
Hook sensing (ie: hook off/on)
Audio Self-Test (microphone / headset check)
Firmware version and firmware update status
Telephone state monitoring
The audio self-test involves testing the function of the SIP software, audio circuits and the handset by playing and recognizing a set of DTMF tones in the handset at pre-configured time intervals. Magnetic hook-sensing makes it possible to generate events depending on the hook status. Events are reported over the ethernet with Modbus UDP, Modbus TCP or with SNMP traps. By using SNMP, it is possible to upgrade multiple telephones simultaneously making it a good choice for large road networks.
Being device used primarily for emergencies the 24/7 operations is important, complementing the internal monitoring features the telephones can also be configured with a redundant PABX solution further enhancing the robustness of the system. Autodial is supported.
A typical Emergency Roadside Telephone – ERT Installation
The below figure shows a typical Emergency Roadside Telephone – ERT installation. Emergency Call Box.  The distance between telephones can differ somewhat in various countries, depending on local regulations and best practice. For example, for European road tunnels, the European Directive 2004/54/EC on Minimum Safety Requirements in Tunnels stipulates that road administrators do not extend beyond 150 meters between SOS Callbox / ERT telephones for public safety reasons.
Example Norphonic Emergency Roadside Telephone Solution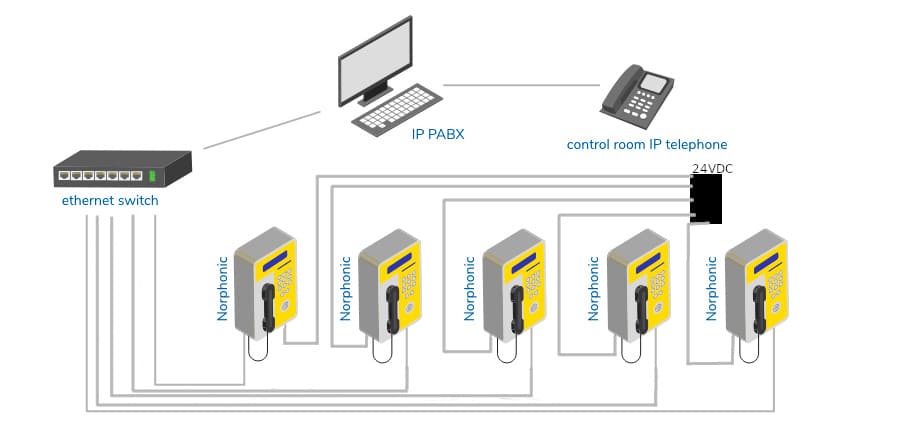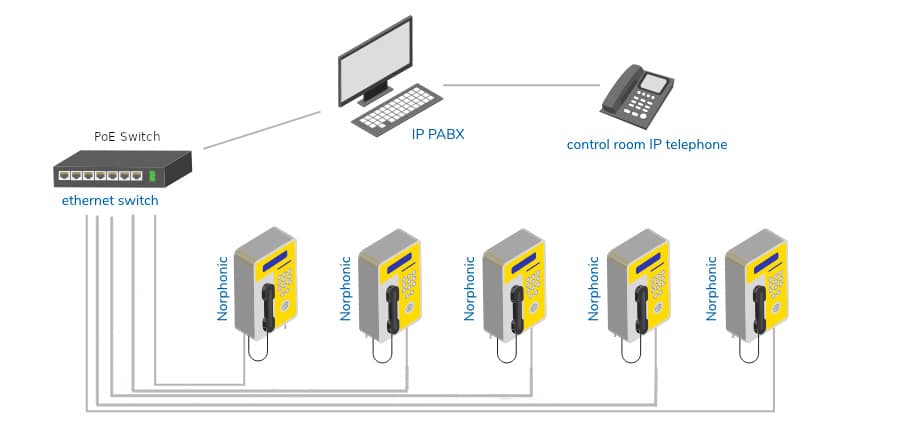 Going Wireless?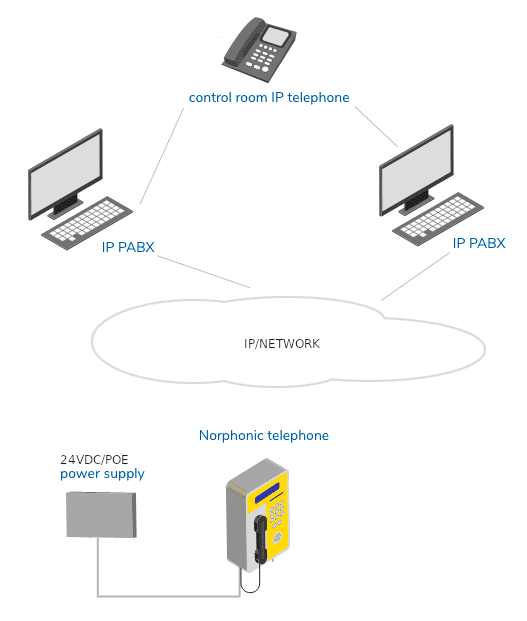 What to look for in an Emergency Roadside Telephone Solution?
There are many issues that needs to be addressed prior to commissioning a VoIP system for an Emergency Roadside Telephone application, such as evaluating the installation environment, functionality and temperature ranges. Below are some key pointers to look at when choosing your Emergency Roadside Telephone – ERT / Emergency Roadside Call System – ERCS:
Is autodial on handset lift available? In most Emergency Roadside Telephone – ERT applications, it is an express wish that an autodial on handset lift is possible, which allows the end user to simply lift the handset to automatically direct the call straight to the control facility. This means that the roadside user do not worry about what number to dial in an emergency.
Is the telephone weather resistant? Roadside help point telephones are often placed outside in areas with no or little supervision and therefore need to be robust to deal with attempted vandalism as well as exposure to rain, extreme temperatures and dust. An IP rating to IP65 is therefore recommended for Emergency Roadside Telephone – ERT applications. See definition of Ingress Protection in the Glossary on this webpage for further information.
Can the system work with your existing systems and infrastructure? The key thing to look for in this regard, is to examine if the telephone is built on Open Standard SIP technology. Norphonic Heavy Duty VoIP systems are built on Open Standard SIP technology, and tested to be compatible with all major PBX and network systems (Alcatel, Cisco, Asterisk etc).
Is the system future proof? Can the system be upgraded or changed in the future without having to change all the telephones and the entire network? All Norphonic telephones use Open Source SIP technology and offers an unified and consistent approach to delivering products that can interface with other communication systems, thereby reducing costs and eliminating inefficiencies of using proprietary and non-reusable solutions. Therefore, the Norphonic Heavy Duty VoIP Telephones can be changed with other systems without loss or differentiation to the level of service. Is the system shock and vibration proof? telephones need to be able to withstand shock and vibration, so check this prior to purchase. Does the hookswitch contain moving parts? All Norphonic Heavy Duty VoIP telephones do not contain moving parts, and can therefore operate in extreme areas where dust or exposure to grime is a challenge for traditional telephone systems.
Can the system work in extreme temperatures? There are wast differences between temperature levels along roads, from sunny summer days to cold winter days, so a wide operating temperature functionality is recommended, from –20 up to +50 celcius degrees.
Does the telephone incorporate VSQ – Voice Sound Quality? This is a standard feature in all Norphonic telephone systems, ensuring loud and clear sound, even in noisy ambiance areas.
Is the Emergency Call Box ECB telephone condensation proof? –This can otherwise lead to severe problems in operation as water can easily form inside the unit, affecting performance.
Does the telephone incorporate a QoS – Quality of Service functionality? This feature, found in all Norphonic telephones, guarantees a certain level of performance in a data flow, ensuring impeccable delivery of voice communications in an IP Network. (see reference to Jitter, Latency and out of order datapackets above)
Is the system easy to install and to maintain? Norphonic Heavy Duty VoIP telephones are easy to install and have in-built status monitoring and fault check function. This means that the status of the telephones can be monitored from a remote location, saving you considerable maintenance costs.
Is the telephone colored in such a way that it is easily identified by roadside users? The Norphonic Heavy Duty VoIP comes in a bright yellow color as standard. Special colors and logos can also be customised depending on the user needs and order volumes.
Is the telephone CE approved? CE marking means that the product is certified to meet EU consumer safety, health or environmental requirements. End users should be aware that some telephones use the intentionally confusing term "CE" for "China Export", and the only way consumers can check this is to closely examine the CE mark/ logo as the two logos are very similar.