Norphonic is providing new VoIP Emergency
Roadside Telephones (ERT) for deployment inside
the road tunnels in Iceland.
Vegagerðin, the Icelandic Road Administration, has started a structured plan to replace all old legacy analogue telephones inside Iceland's tunnels with modern Heavy Duty VoIP telephones. The Norphonic VoIP ERT telephones will also be installed in three new road tunnels currently under construction.
"Norphonic's robust performance coupled with the unique VoIP capabilities makes this an ideal emergency roadside telephone
solution" comments Guðmundur Ingi Guðmundsson, at Smith & Norland, a leading system integrator in charge of the installation
and replacement program.
"The Norphonic Heavy Duty VoIP telephone is built on Open SIP Standards which enables easy integration with both new and
existing network infrastructures, making the telephone solution highly scalable and future-proof"
Installation Summary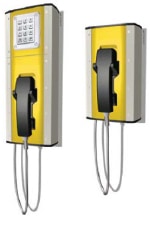 Location:
Road tunnels in Iceland
Customer:
Vegagerðin (The Iceland Road Administration)
Industry:
Road Security, Emergency Roadside Telephones