The Flemish Road Authority have installed Norphonic
Roadside Telephones (ERT) inside four tunnels in
Antwerp, Belgium.
When the Flemish Road Authority "Agentschap Wegen en Verkeer" needed new Emergency Roadside Telephones for the Simon Bolivar Tunnel and the National Bank Tunnels, they focused on high reliability and solid build quality.
These road tunnels are located in the city of Antwerp, which is the largest municipality in both Flanders and Belgium. Because many road users depend on the tunnels for their daily commutes, it was important for the Flemish Road Authority to find an ERT solution which would continue to work in difficult environmental conditions and bring quick assistance in case of emergency or car break-downs.
Following extensive research and testing of available products on the market, the Flemish Road Authority selected the Norphonic VoIP Emergency Roadside Telephone, installed by Imtech Telecom.
Installation Summary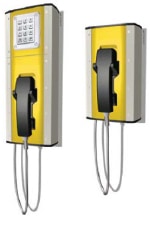 Location:
Antwerpen, Belgium
Customer:
Agentschap Wegen en Verkeer
Industry:
Road Security, Emergency
Roadside Telephones