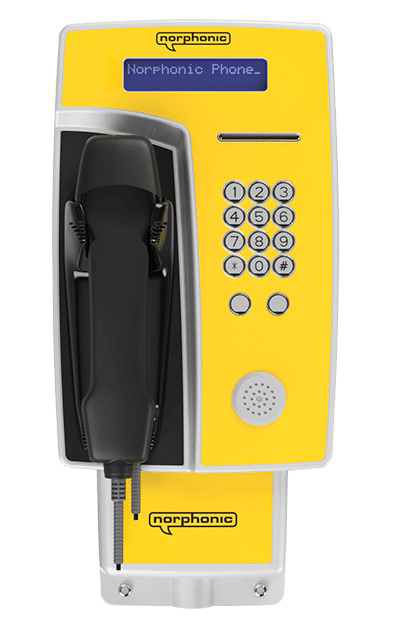 The Norphonic Heavy Duty VoIP Telephone
The Norphonic Heavy Duty VoIP Telephone is a robust, weather resistant telephone, built to withstand extreme temperatures, corrosion, humid and dirty environments.
The Norphonic telephone is dust and water-proof to IP65. The telephone is also impact-, vibration- and shock-proof.
It comes with an illuminated display and a flashing light beacon for use in dark tunnels or in noisy areas where a ring may not be heard. The robust handset, armored cord and cable-cover ensures excellent protection against vandalism.
The Norphonic telephone comes with an innovative SCADA interface, which enables you to manage the telephone via SNMP or Modbus protocols. A software solution can also be used for remote installation and management of the telephones. The telephone is otherwise based on open SIP standards which ensures seamless connectivity with related technology such as PABX, gateways and switches.
The telephone has an extensive range of certifications and approvals. This include approvals for Mining, Railways and Maritime applications. Please review the Technical Data Document to read more about the approvals, technical features and functionality.
Flexible solution to meet your needs:
With or without keypad, for autodial on handset lift.
With or without single mode fiber ports, allowing redundant networking.
Color selection available on volume orders.
When Performance Counts
Reliable performance
Shock-, impact- and vibration-proof
Water & dust proof to IP65
Built-in high intensity beacon
Excellent Sound Quality (STI = 0,9)
Vandal resistant handset and cord
Remote diagnostics and control
Tolerant of extreme environments
Hook switch with no moving parts
Illuminated display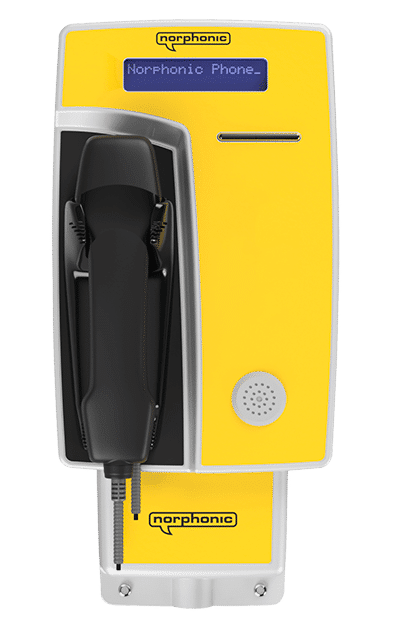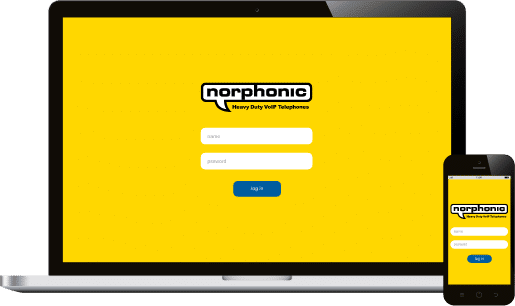 Norphonic Remote Management
The Norphonic Remote Management software configures, monitors and trouble-shoots your Norphonic Heavy Duty VoIP Telephones. It is easy-to-use and has been designed to provide you, the operator, with complete control. The user-friendly interface allows you to quickly install, maintain and update your Norphonic telephones – all from one convenient location.
Norphonic Remote Management is a highly reliable and secure software application. It delivers all of the features that are necessary for administrators to access, view, control, manage and modify remote Heavy Duty VoIP Telephones from a central web-browser interface. Norphonic Remote Management significantly improves your productivity and reduces maintenance costs by streamlining administration and optimising quality of service.
Simplify Installation, Operation and Maintenance
Norphonic Remote ManagementAs your VoIP Telephone installations becomes more geographically dispersed and the number of remote users increases, the need to manage and support vital Norphonic VoIP devices from afar becomes crucial. If remote IP devices are not managed quickly, efficiently and reliably, operational performance may not reach its potential.
To manage remote installations, the operator must have access to individual VoIP Telephones and IP cameras over a WAN of LAN network. The operator must have the possibility to view, administrate or take control of these IP devices from a centralised location in order to quickly resolve day-to-day issues.


Unique Features
Remote Management of VoIP Telephones
Self-Monitoring and Fault Checks
Easy Configuration and Maintenance Tools
Remote monitoring of telephone status
Mass Provisioning Tool – configure and update many IP devices at once