Norphonic Control unit – Holme
The heart of the new Norphonic product series, delivering robust VoIP capabilities and tested for challenging industrial environments.
Reliable performance in extreme environments
The Norphonic VoIP telephone provides reliable performance in extreme environments. This control unit in combination with a front panel can be used in many different environments and can support an enclosure with an IP-rating up to IP69K.
The Norphonic telephone features advanced VoIP capabilities, including an intuitive remote management function, saving both installation time and maintenance costs. Telephone start-up, firmware updates, and system checks, can be done remotely via any standard web browser. Norphonic telephones are built on open standards and this ensures seamless connectivity with related technology such as PBX, gateways, switches and SCADA systems.
Applications
Norphonic Heavy Duty VoIP Telephones are sold as standard products but can also be tailored to user needs. Our telephones therefore represent a perfect fit for many different user applications. The telephone unit has specific approval for marine- and railway application and can also be used for roadside traffic applications (ERT), tunnelling, mining and other industries.
Dimensions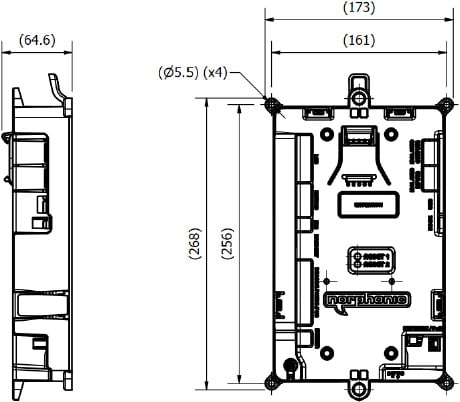 Mounting with front panel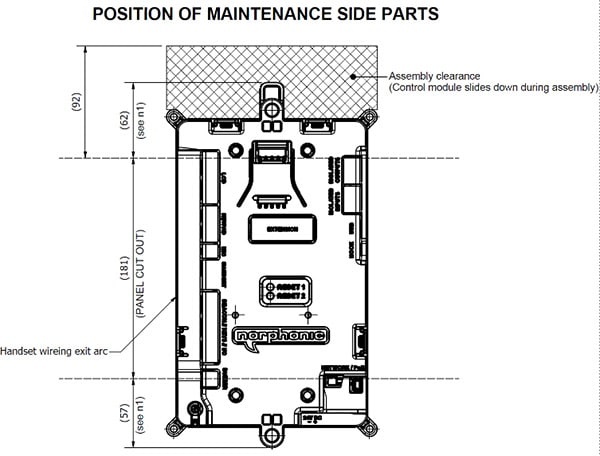 Certifications
EN 50121-4:2016A 1:2019 – Railway Applications
EN 55032:2015 AC:2016, EN 55035:2017 AC:2019 – Electromagnetic compatibility of multimedia equipment
FCC CFR 47 – Subpart 15B Digital devices – Class B Digital Device
Technical Specifications
Weather resistance: Dust and waterproof to IP65
Heavy duty performance: Impact-, fall-, vibration- and shock–proof, able to perform in difficult environments
Operating temperatures: -25° C to + 65° C Relative humidity high: 93% R.H at 40° C (non-condensing)
Casing material: Polycarbonate
Weight: 0.65kg
Power supply: 24V-48V DC input, or Power over Ethernet (PoE)
Inrush: 0.6A@24V and 0.1A@48V
Power consumption: 3W nominal, 15W start-up
Connection: RJ45 ethernet, 2-pin Power.
Quality of Service (QoS): ensuring optimal delivery of voice
Type of Service (ToS): high throughput and reliability (RFC3168)
ISDN gateway compliance: connect any SIP compliant VoIP/ ISDN gateway to call to – and receive – calls from ISDN
Virtual LAN: Telephone support 802,1Q VLAN on all network ports, which enables sharing of same physical infrastructure for several logically isolated networks
SIP (Session Initiation Protocol) RFC3261
Inbuilt redundancy: able to make diversion calls to 2nd PBX
Self-monitoring and fault check functions: automatic health-check and fault detection for increased performance. Status can be read by all major SCADA and associated control systems
Modbus UDP and Modbus TCP protocols: enabling remote access for status monitoring and control
(link status, handset on/off, condition of telephone components, etc)
SNMP (Simple Network Management Protocol): for advanced status monitoring and control
Configuration: web interface or server based configuration file. Static IP address provisioning or DHCP. Mass configuration available
Reset: Factory reset and IP reset.
Keypad option: Available with a keypad or autodial-on-hand-set-lift, used to initiate a PBX Hotline or wait for reply
Required Accessories: Berg Handset or Vidda Speaker.
Remote management: Available with remote management software, to simplify installation and cut maintenance costs.
Mount: DIN railing or 2x M8 SCREW
Hardware Interface
14-Pin HDT44780 compatible connector
4x 2-Pin 5V Output
2x 2-Pin 5V Input
1x 2-Pin 5V,12V or 24V Output
4-Pin Microphone input
RJ11 Headset plug
9-Pin Matrix-keypad connector
2x 2-Pin Isolated Inputs
2x 2-Pin Isolated Outputs
1x 2-Pin Hook switch
Features
Remote diagnostics and control
Can be used with different front panels