Norphonic VoIP Panel phone handset – Berg
The exterior panel with handset to be combined with Norphonic Control unit – Holme
Norphonic VoIP panel phone assembly – Berg Handset
• Excellent sound quality (STI = 0.9)
• Robust
Assembling the Berg handset with a Holme base results in a panel phone which can be used in a wide array of applications. The only requirements are for the panel to be cut-out contour to be as the one shown in the picture below. Please refer to our manual for more assembly details.
The handset consists of ahigh quality microphone and speaker, designed and tested for rugged environments. The robust handset and armoured cord ensure excellent protection against harsh environments.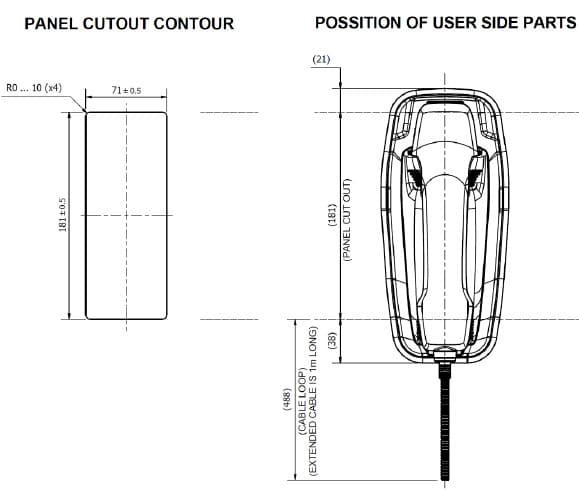 Technical Specifications – Berg
Weather resistance: Dust and waterproof to IP66 (Dependent on mounting)
Heavy duty performance: Impact-, fall-, vibration- and shock–proof, able to perform in difficult environments
Operating temperatures: -25° C to + 65° C Relative humidity high: 93% R.H at 40° C (non-condensing)
Casing material: Polycarbonate
Weight: 0.54kg (with Holme 1.20kg)s
Handset: Robust handset with armoured stainless steel cord IP65Hook-switch: Magnetic with no mechanical moving parts
Microphone: Noise cancelling dynamic mic, proven in noisy areas.
Speaker: 50Ohm 1W
Excellent sound quality: STI approved to 0.9 (Excellent Sound)
Colour: Black handset with yellow front panel. Weight: 1.20 kg approx. (0.65kg Holme only)
Power supply: 24V-48V DC input, or Power over Ethernet (PoE)
Power consumption: 3W nominal, 5W start-up
Connection: RJ11 plug for Handset Microphone and Speaker, 2-pin terminal plug for hook. Earthing cable.