On 29. July 2020 there was a dramatic car fire accident in the tunnel Hundvågtunnelen.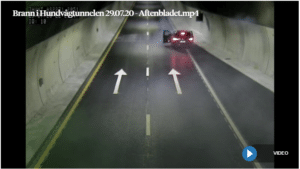 Norphonic emergency telephone network installed throughout the tunnel was a crucial part of
getting the message to first responders and worked flawlessly. With professional response from
Traffic Central and fire brigade the fire was extinguished under 30 minutes since the occurrence.
Norphonic provides emergency telephone equipment and services in many dozens of tunnels
throughout Norway, working 24/7/365 since 2008.